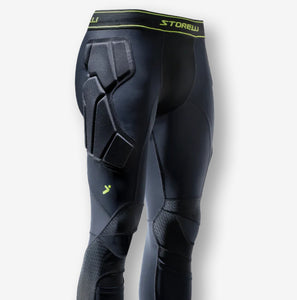 DETAILS
Designed to protect from impact and turf burns with anti-abrasion panels on knees and lower legs, it combines light-weight protection with premium microfiber fabric for warmth and mobility.

Armored with heavy-duty 10mm moulded thigh pads to shield you from abrasions and impact when diving.

Armored with proprietary stretchy anti-abrasion panels (SABR-Tex) that protects your knees and lower legs from turf burn and abrasions.

Constructed with the first-ever built in shin guard pocket that locks your guard in place, eliminating the need for tape. The contoured waistband provides superior comfort, and includes a utility pocket for a performance tracker or other small items.

Feature a waist drawstring to keep the leggings in place as you dive.
KEY FEATURES
Anti-Bacterial

- Enhanced with anti-bacterial treatment to reduce germs and odors

Turf Burn Resistant - Stretchy, thin, flexible abrasion-resistant panels that withstand turf burns
UV Resistant - Protects skin from harmful UV rays.