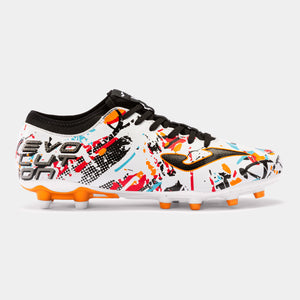 Product Story
Football boots suitable for playing on natural grass. The continuation of the Evolution model has evolved to the latest in technology. The elimination of seams in the cut and the incorporation of the sock system revolutionize the previous design. These versatile football boots combine speed, control and precision.
The upper is made of seamless synthetic material, all in one piece made with ONE PIECE technology. This characteristic brings lightness to the boots. They also incorporate the SOCK SYSTEM, a sock system that, once again, provides lightness and optimizes the fit by fixing the structure of the shoes to the foot.

On the heel, they have an EXO COUNTER heel reinforcement, which protects the area and provides stability.

The sole is made of firm and resistant synthetic material.

They also stand out for their modern and fun design, which makes them ideal for the little ones.