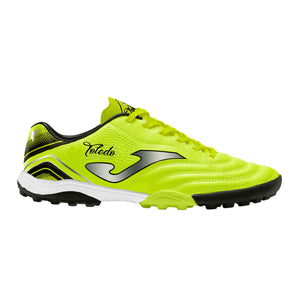 Product Story
Soccer shoes for boys/girls. Joma's quintessential classic children's model. With these versatile shoes, any place can be a soccer field.

The upper is made of high-quality synthetic material and has good contact with the ball. On both sides of the upper, small perforations have been added to help ventilate sweat so that the little footballer's foot stays cool and dry. This has been produced using VTS technology.

The very good quality DURABILITY rubber sole resists abrasion wear. It is reinforced with PROTECTION technology on the sides, so that area is protected from blows and possible torsion. In addition, the natural movement of the foot is guaranteed: the FLEXO lines provide unparalleled flexibility.