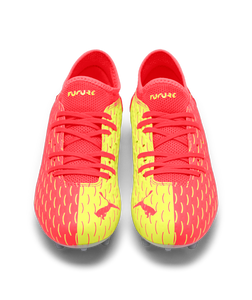 Description
Only See Great. Rise up to the opportunity to impact and be great on pitch with the unique color combination and silver outsole. The FUTURE 5.4 combines lightweight, comfort and longevity by using a soft, yet durable synthetic upper material. The stud configuration offers an optimal mix of stability and agility.
Outsole
Lightweight TPU outsole with a combination of conical and bladed studs. Suitable for use on both firm natural surfaces and artificial grass.
Upper
Soft and lightweight upper.