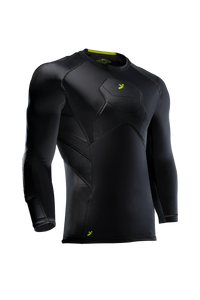 Technical GK undershirt padded against impact and turf burn injuries across all the body parts exposed to risk (
shoulders, ribs, chest and elbows). 
Built like no other, it's designed for competitive goalkeepers that dive aggressively without distractions.
DETAILS
The ultimate padded protection soccer undershirt for goalkeepers who don't hold back. Dive aggressively, on any soccer surface and stand protected in this goalkeeper base layer compression undershirt. 

Features 2-piece elbow construction that follows the bend of your arm and shaped shoulder placement that responds to impact more firmly and effectively.

Mesh cooling system on the back panel advances the Anti-Bacterial properties of the shirt.

Flexible but heavy-duty XRD® ergonomic pads on shoulders, elbows and ribs.

Slow-rebound chest pad to make saves easier.

Compression moisture wicking fabric with strategically placed breathable mesh panels.
MATERIALS AND CARE
Body 82% Nylon, 18% Spandex
Foam 100% Urethane Foam