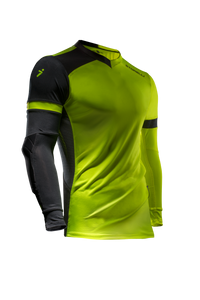 Fitted GK jersey with ergonomic elbow padding for maximum comfort, style and extreme impact protection.
DETAILS
Nothing is fearless like the defensive spirit of a Gladiator. This strike goalkeeper jersey is inspired by the oldest form of protection known to man: Gladiators wore iconic armor known as "The Galerus," — a distinctive metal guard referred to as the Retiarii which isolates and liberates the Gladiator's strong arm for battle.

Feature durable, textured shield covers and a locker loop.

Thin but heavy-duty 3mm XRD® pads on elbows.

Slim fit.