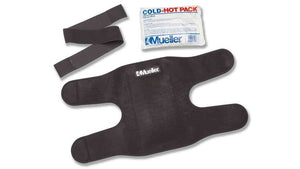 Mueller Cold-Hot Therapy Wraps 
Large Wrap holds one 6" x 9" cold-hot pack, ideal for knee, calf, shoulder, back, or thigh. Small holds two 4-3/4" x 6" cold-hot packs, ideal for a child or ankle, foot, elbow, wrist, or neck. The detachable extension strap (included) helps secure the Therapy Wrap in place.
Large extension strap measures 2-1/5'. Small extension strap measures 1-1/10'.
Warning:
These products either contain natural rubber latex or are constructed of a neoprene blend, which may cause allergic reactions or skin irritations. If rash develops or pain persists, discontinue use and consult a physician.